If you notice I am on a marathon...making 3 consecutive posts in a day...worst in a few minutes interval! Anyway...it's fine as I want to exhaust myself so I get that sweet sleep I need and since it's a holiday here (Yes, we celebrate you 111th Independence Day today!) I can get up late! WOOT!

So without further ado, here is my Friday Fill-Ins entry for the week...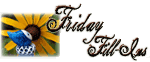 1. I grew up thinking what will I be.

2. Momisodes was the last website I was at before coming here.

3. Why don't you join Tuesday's Tales next week? (Oops sorry can't help it!)

4. Music helps me relax.

5. Thanks for the LOVE.

6. Backstabbers are very off-putting.

7. And as for the weekend, tonight I'm looking forward to going grocery shopping, tomorrow my plans include getting a haircut and Sunday, I want to jog again!