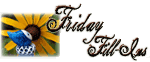 This turns out to be a rather busy Friday and I did not even realize it 'til it's 4PM (Philippine Time). I had to meet my best friend at the mall, we had coffee, then I met the web developer, then had 2 other meetings after that.
Now I'm sitting here all by myself trying to sleep, few minutes back I was so ready to hit the sack but then I just lost it like that. The IT Guy is not feeling well and had to retire early.
1. I know what I want.
2. The month you promise to visit when you didn't was the longest month.
3. You can't help but fall in love with me. (Bleh!)
4. To all detractors; bring it on!
5. Where have you looked when I am just here beside you all this time?
6. He is now available.
7. And as for the weekend, tonight I'm looking forward to getting more sleep, tomorrow my plans include visiting the Taoist Temple and Sunday, I want to bake more banana cakes!
And before I go and visit others, let me share with you what I have been playing over and over for an hour now. Gosh, how could I blush listening to this! Well, what's new, it's Friday and I'm in love!
Happy Friday everyone!