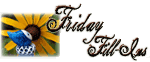 This will be quick...and I will be back later to visit everyone, and by the way, I so love #1!
I have already tendered my resignation at work and will be officially free end of the month. WOOT! I have a lot of things in my plate for the new organization I'd be joining and since I just recovered from flu and asthma I'm just trying to take things easy.
1. Wouldn't it be easy if sweatpants were sexy, Monday mornings were fun, junk food was healthy, friends didn't cause drama, guys weren't confusing, nothing was regretable, and good-byes only meant until tomorrow?
2. Today will be better than ever!
3. I love the taste of dark chocolate.
4. I am rarely in the living room.
5. The first thing we're going to do is figure out what we want.
6. Drip drip, drip, drip; says the rain.
7. And as for the weekend, tonight I'm looking forward to doing my final turnover at work, tomorrow my plans include going with the nephew for a haircut and Sunday, I want to visit the Taoist Temple!