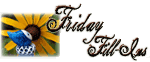 Here goes my
Friday Fill-Ins
for the week...
1. It was a dark and stormy night,
I was scared and wished you're with me
.
2.
They don't like it
so I offered to take the books myself.
3. Rushing out,
to meet you
.
4.
Oh my
...I think I heard a howl!
5. Shhhh...
I think I heard footsteps
.
6.
Somebody
give me something good to eat!
7. And as for the weekend, tonight I'm looking forward to
packing my things for out trip
, tomorrow my plans include
visiting my GrandMa
and Sunday, I want to
go to the cemetery with the family
!
Here, most of our activities are for All Saint's and All Souls Day, so we're going to Bohol and spend our long holidays there. I will be back Monday evening to join my team's activity at the office. The department will host a trick or treat activity.

Wish you all a safe and happy Friday!