As what I tried to spell out in my haiku above...my week just passed me by. Not sure if it was the busyness of the whole week that made me lost track of time or I just simply lost track of time. (((SIGH)))

Anyway it's Friday and as always...I'm in love! So many things happened this week...some a little crazy...some half crazy...and the rest were completely crazy...all for good reasons I hope. Ha!

So to add to the craziness and fun of my week here is my Friday Fill-Ins!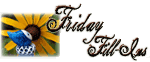 1. It's time for my shower.

2. Wherever we are; it's not a bad place for living our lives to the fullest.

3. I must be HIGH.

4. LOVE is the best thing I have ever known.

5. My life is simply amazing.

6. The last time I laughed really loudly was at work few hours ago.

7. And as for the weekend, tonight I'm looking forward to finalizing some business concept with a friend, tomorrow my plans include getting drunk and Sunday, I want to rest!

Wish you all a kickass weekend!