It's FLY Day...and Monday seems just yesterday. Time flies so fast.
I need a break...so here goes my Friday Fill-ins!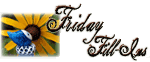 1. When it comes time to make a decision, I always try to see the bigger picture.


2. FAIRNESS that must be the rule.


3. Ma says, you can't hurry love. Haha!


4. Happy at the same time bithcy.


5. I never saw you smile.


6. BS not a new invention.


7. And as for the weekend, tonight I'm looking forward to gettting a facial, tomorrow my plans include eating out and Sunday, I want to go shopping with the IT Guy!


I wish you all a happy FLY Day!!!