It's 8:03 AM and I'm at the airport. My flight back to Cebu is at 9AM. My last night in Manila was the busiest I'd say.

I had an early meeting at around 7:30pm and got off almost 10...went to a friend's house and had a late dinner there. He was so kind to cook for me...and his kids...my god...they're all so beautiful, I fell in love with them right away.

While I whining with the fact that I missed buying Krispy Kreme doughnuts for my staff...he saved my day. He drove (well his driver) us to Fort and there, found the Krispy Kreme. The highlight was spending time with the kids...so so fun! Too bad his wife wasn't able to join us...but well it was still fun.

They drove me to the corporate office in Makati after and was supposed to go back for me...but the boss and I seem to have a good talk that they have to just go home. At 15 minutes to 7, I was still on my way to the hotel and had not packed my things yet. Anyway...I moved heaven and earth and here I am...way too early! LOL

I am so excited to be home and finally eat a real meal which just means anything that is cooked by my Mom. Well I had one last night too courtesy of a friend. ;)

Anyway just to fill-in my waiting time...here is my Friday Fill-Ins.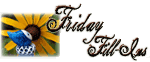 1. The last thing I ate was pasta and barbecue.
2. Shoes is something I recently bought.
3. When it rains, it floods!
4. Hustler was the first person I talked to today.
5. Hugs are always nice.
6. Friends are extra comfort.
7. And as for the weekend, tonight I'm looking forward to meeting friends later, tomorrow my plans include jogging and Sunday, I want to spend time with the IT Guy!