I almost got lost with time...I hardly notice it's already Friday!

What happened between Wednesday and now...ask the clueless me, because I have no idea. All I know is I've been struggling to get enough time to sleep and consciously stayed away from the computer and missed Thankful Thursday. All in the hope of getting myself to relax and doze off. All hopes and efforts were in vain.

Anyway, it's Friday and I am still clueless on how time passed me by. All I know is I can't wait to be weekend already!

Please click Haiku Friday if you came here for my haiku...or you may want to scroll down after Friday Fill-Ins!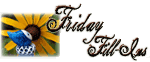 1.
Home sweet
home.
2. My favorite thing for dinner lately has been
Chicken Soup
.
3.
Woof, woof,
bark! bark! bark!
4. A nice long walk
holding hands with the one I love
.
5.
I hope to get
some good news. (Soon!)
6. When all is said and done,
more is said than done
.
7. And as for the weekend, tonight I'm looking forward to
inviting friends to dinner at home
, tomorrow my plans include
shopping for a rubber shoes
and Sunday, I want to
jog
!
Happy Friday to all!